The Erwin Hymer Group is a wholly-owned subsidiary of Thor Industries, the world's leading manufacturer of recreational vehicles, which has over 25,000 employees. The companies in the Erwin Hymer Group manufacture motor homes and caravans, specialise in accessories and provide rental and financing services.  The Erwin Hymer Group (EHG) is home to a variety of brands, including Hymer, Bürstner, Dethleffs, Eriba and LMC. These brands provide customers around the globe with the opportunity to experience world-class recreational and mobility adventures. Digital products and services play a central role in generating added value for each of these manufacturers.
A foundation. Individual brand experiences.
The bold, distinctive brand images these established companies have created over many decades need to be reflected in every digital platform experience. We are advising EHG on how to meet that challenge and assisting them in implementing a solution.
The Erwin Hymer Group sees itself as an enabler of its brands. As such, it strives to provide each of them with its own digital brand experience. To make that happen, we created a white-label product that allows us to implement digital platform projects efficiently and cost-effectively. This standardised infrastructure harmonises entries in product databases, captures user data throughout the customer journey, personalises user experiences and creates a modular basis via a white-label UI pattern library. This serves as the foundation of the digital applications used for all EHG brands, and was designed specifically for the recreational vehicle sector and its target audiences. It's thus possible to create websites and a wide range of other applications very efficiently, while also having ample scope for creativity and ensuring that each application conveys a distinct brand identity.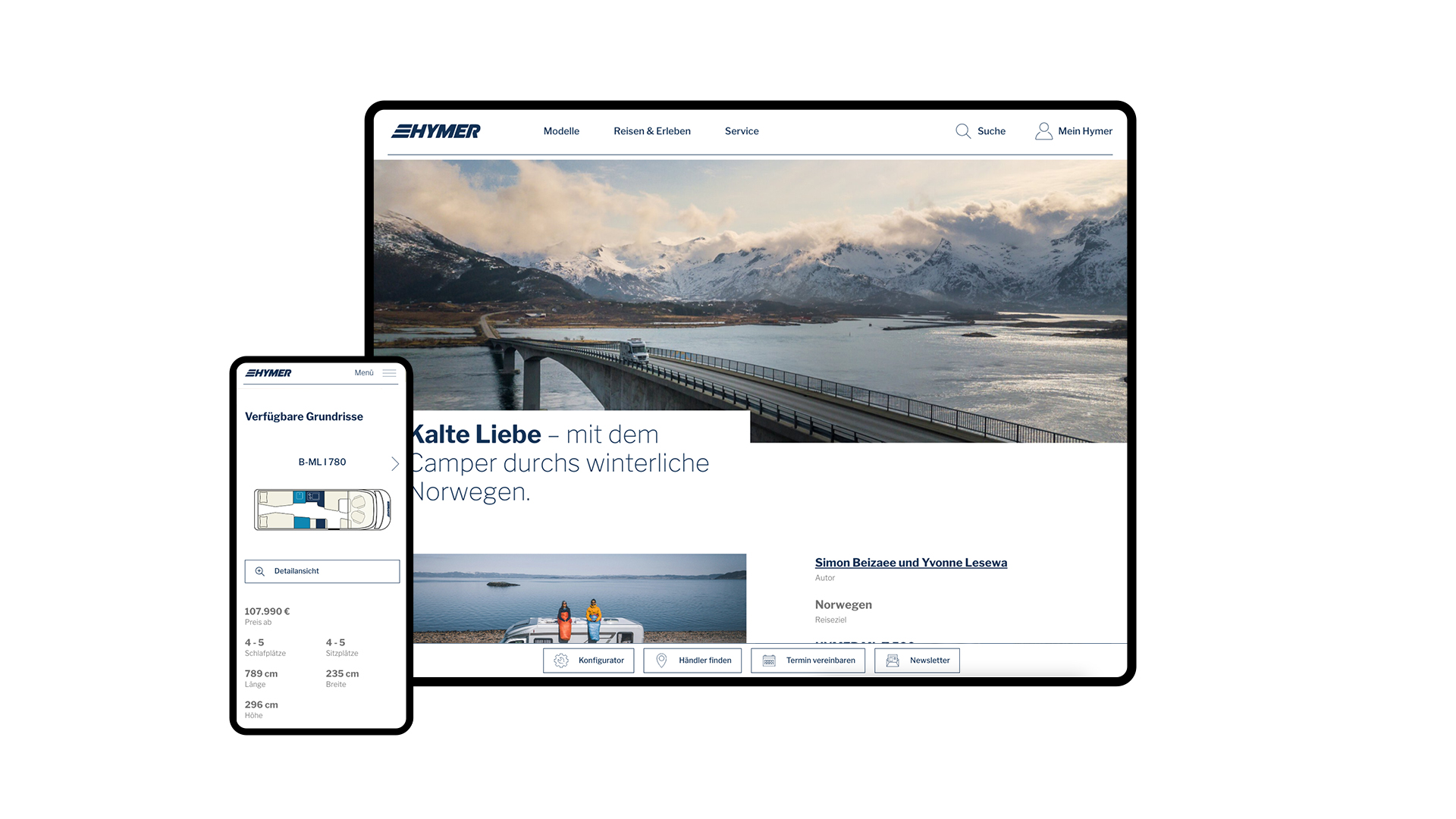 This has allowed EHG to bundle investment in technological infrastructure and thereby avoid duplication of effort. In turn, this harmonisation has resulted in marked acceleration of the transformation of digital brand, product and service experiences at Group level.
Accordingly, each EHG brand has benefited from the establishment of centralised marketing automation, sales and product database consolidation across markets, and harmonisation of the application environment.

Andreas Ortlieb

Head of Marketing Operations of the Erwin Hymer Group
Harmonization. Standardization. Efficiency enhancement
With the whitelabel approach, EHG creates the basis for bundling investments in technological infrastructure and avoiding duplicate developments. At the same time, harmonization leads to a significant acceleration of the transformation of digital brand, product and service experiences at group level. Thus, each EHG brand benefits from the central establishment of marketing automation, cross-market sales and product database consolidation, and harmonization of the application landscape.
Our services:
Requirements management
Customer journey mapping
UX and design system
Pattern libraries
Tech & process consulting
MarTech & data integration
Stakeholder management
Content and roll-out
Interested?
Tell us about your projects