The world's largest book fair opened a new chapter in its successful history with the Frankfurt Book Fair 2021.
A team from the book fair worked in conjunction with the SYZYGY GROUP – led by diffferent – to define and pilot strategically new and viable business models. The aim was to make the Frankfurt Book Fair's brand and business model more resilient and create a stronger digital presence.
How can trade shows and specialist events generate income beyond the physical event itself? This has been an issue for organisers since long before the coronavirus pandemic.
Because it's not enough to simply replicate trade show activities in a virtual format, we took a fresh look at how various digital offerings could meet the needs of business customers, based on data and insights from markets, customers and experts. We then worked closely with our client to develop the Frankfurt Masterclasses 2021 pilot project for the book fair's specialist programme of events.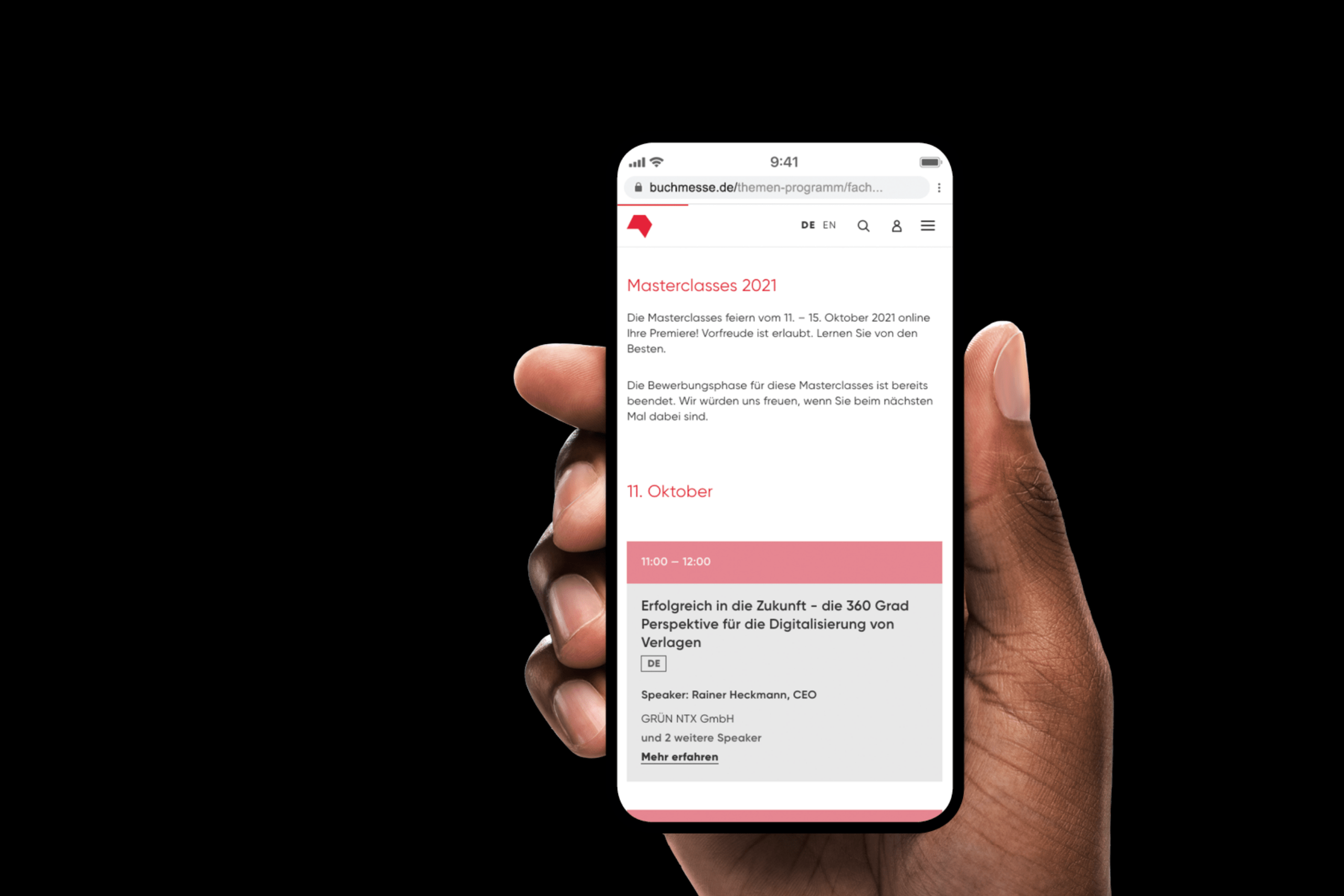 The exhibitors presented their expertise, content and portfolios online in masterclasses on digital platforms, all of which were carefully staged, curated and promoted. The audience was hand-picked: interested individuals had to apply for the limited places in the various online sessions and agree to their data being shared. Participation was free of charge for audience members.
The exhibiting customers and speakers paid a masterclass fee, for which they received a professional recording of their appearance, including post-production, for further use. They also benefited from detailed audience feedback on their session and from the opportunity to engage with specific groups of potential B2B customers.
The highly innovative masterclasses for the 2021 book fair had a very successful market debut: a total of 850 B2B professionals from 75 countries applied for 12 masterclass sessions. The participants stated that they were highly likely to re-use the format, and expressed satisfaction with the content. In turn, the exhibiting publishers and presenting speakers awarded top marks for value for money.
The market was ready for our new strategic approach – and the concept will now be further refined and scaled for the Frankfurt Book Fair 2022 in order to achieve new growth.
Our services:
Transformational shifts/hybridisation
Serialisation
Future projection
MVP process
Interested?
Let's get in touch!